Innerduct has long been used to protect and segregate fiber optic cables installed in conduit outside-plant and premise environments. It also protects and segregates fiber cables in cable tray throughout telecommunications spaces and pathways. But did you know that there are multiple types of innerduct available? Where, how, and to what distance you plan to deploy fiber cables will dictate what type of innerduct is right for your project. Let's look at the options.
HDPE vs. PVC
Innerduct is made of high-density polyethylene (HDPE), polyvinyl chloride (PVC), or other non-metallic materials such as nylon. Whenever you install outside-plant environments, you should select innerduct made of HDPE. Made from petroleum, HDPE is weather proof and leak proof. It can handle temperature extremes without becoming brittle and fragile. It is also resistant to UV sunlight, salt, sand, and other corrosive materials.
In contrast, PVC is a vinyl polymer that can become brittle when exposed to cold temperatures, and it can weaken under exposure to UV sunlight. It also exhibits higher failure and leakage ratings when deployed in outside environments. One benefit of PVC, however, is that it is naturally fire retardant, which makes it ideal for deployment in premise environments.
Riser vs. Plenum
Non-HDPE innerduct for use in premise applications is either riser or plenum rated specified by the National Electric Code® (NEC®) and certified by safety certification companies such as Underwriters Laboratories (UL). Just like riser and plenum ratings on the cables themselves, these ratings denote the ability of the innerduct material to resist fire or limit the release of smoke or toxic fumes that can occur when it burns.
Riser-rated innerduct has a flame rating that reduces the spread of fire between floors. It is deployed in shafts or pathways that traverse vertically from one fire-rated floor to another. Plenum-rated innerduct features a higher flame rating to prevent flame propagation, while also limiting smoke/toxic fume emissions during a fiber. It is the required rating for any innerduct in air-handling spaces, such as above a dropped ceiling or under a raised floor.
In premise applications, innerduct protects and segregates fiber cables installed in conduit, but it is also ideal for fiber cables that reside in pathways alongside other communication cables. It can helps isolate fiber to prevent damage from other cables or trades working in those spaces. Riser- and plenum-rated innerduct available in multiple colors is also ideal for segregating and identifying different systems—especially in any premises with passive optical LANs, fiber-to-the-desk, or specialty fiber applications.
Corrugated vs. Smooth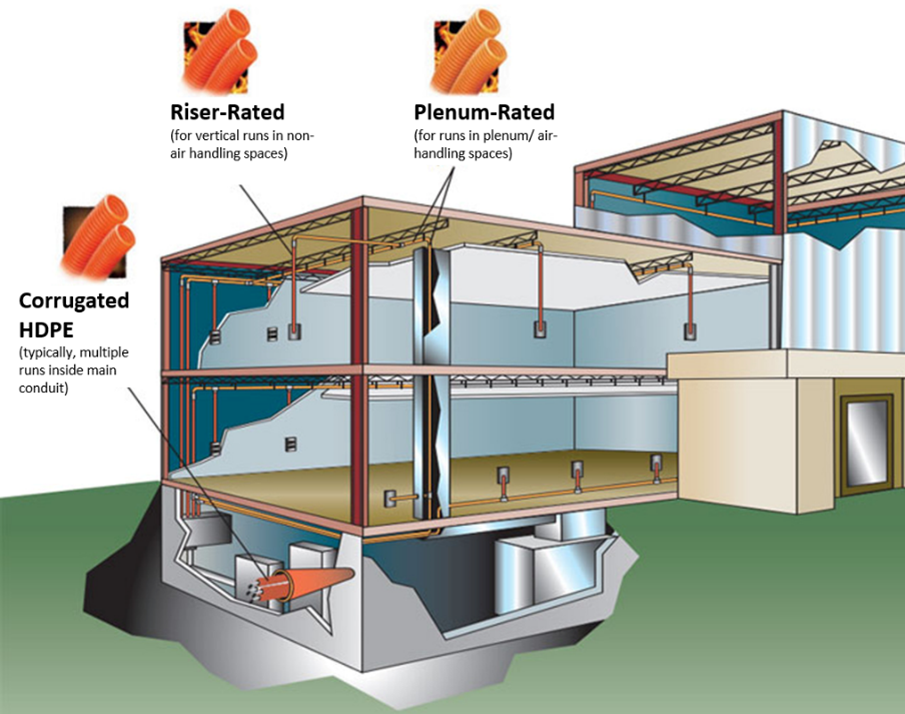 HDPE innerduct used in outside-plant deployments comes in either corrugated or smoothwall construction. Corrugated HDPE means that the innerduct is constructed with alternating rings. This allows for a lightweight, more flexible innerduct to facilitate bending and prevent spiraling in tight environments. The corrugated surface also reduces contact area between cables and the innerduct to reduce friction when pulling cable. It is intended for shorter runs of less than 1000 feet (300 meters) inside existing conduit and is not suited for direct burial applications.
Smoothwall HDPE innerduct has a higher tensile strength and weighs nearly twice as much as corrugated. It's also much stiffer and more challenging to handle than corrugated. It also results in much higher friction during cable pulling, which may call for a pre-lubricated smoothwall innerduct. However, smoothwall innerduct offers better protection for use in underground applications and helps increase pathway space in existing duct systems, allowing extra room for future cabling needs. It can be installed using direct-buried, trenching, plowing, aerial, and directional boring methods. Smoothwall innerduct is also the best choice for jetting or cable-blowing applications.
Riser and plenum innerduct use corrugated construction to facilitate installation in interior pathways and reduce friction during cable pulling.
Additional Considerations
Because each type of innerduct—corrugated and smoothwall HDPE and corrugated riser and plenum—is suited for particular environments, installation methods, and distances, it's essential to know precisely where, how, and to what length you're deploying fiber cables. But it's also important to remember the general rule (as recommended by the NEC) of no more than a 40% fill ratio for the initial installation to ensure capacity, with a maximum fill ratio of no more than 70%. Knowing the diameter of the cables you're installing in the innerduct is therefore essential to select the correct size. At the same time, you don't want to pay for a larger innerduct than you need, so be sure to look for innerduct available in multiple sizes.
In addition, if you plan to use innerduct for identification AND protection of fiber cables, it's best to select from vendors that offer multiple colors. Another option that should be standard is sequential footage markings for easy length identification during storage and installation. To facilitate cable installation, innerduct with pre-installed pull tape or pull string is also essential. Without it, extra labor and equipment are required to blow in your own pull string.
The good news is that Cables Plus offers a comprehensive line of innerduct for all your fiber cable deployment needs—outside plant corrugated and smoothwall HDPE, plenum, and riser—in a variety of sizes and colors along with couplers and adapters. And if you're unsure what type of innerduct you need for your next project, we're here to help. Just contact us at sales@cablesplususa.com.