Copper category cables feature four twisted pairs of insulated conductors that range from 22 to 30 AWG. They can be shielded or unshielded construction. Shielding protects against noise that can disturb signals, such as crosstalk and external electromagnetic interference (EMI) and radiofrequency interference (RFI) caused by magnetic and electric fields from a variety of sources.
Shielded cables can also help dissipate heat in cables installed at elevated temperatures and for those delivering power over Ethernet (PoE), which generates heat. When the temperature rises within cables, it causes insertion loss that can degrade the signal. Insertion loss is the amount of signal loss along a cable link. Because insertion loss is directly related to length, Industry cabling standards recommend reducing the link length (de-rating) at temperatures above 20°C (68°F). The de-rating factor for unshielded cables is higher than for shielded cables. For example, at 60°C (140°F), the maximum length for unshielded cables is 75 meters versus 83 meters for shielded cables. The above-ceiling plenum space in warmer climates can easily reach temperatures of 30°C (86°F) or higher.
Shielding cabling comes in various types designated by two acronyms per industry standards. The first acronym defines the shield surrounding all four pairs, and the second represents the shield surrounding each pair. The industry doesn't always use both acronyms when referring to a cable's construction.
UTP Cables
UTP cables are technically U/UTP per industry standards, indicating no shielding around all pairs and no shielding on individual pairs. UTP cables, such as Category 6A, are the primary cable type deployed in North America. They are adequate for the bulk of LAN installations in commercial environments and data center applications up to 10 Gb/s.
UTP cables are faster and easier to install as there is no need to pull back any shield during the termination and ensure that the shield is properly grounded. Because shielding is a conductive metallic component, it must be properly grounded. An ungrounded shield can induce voltages in the shield that can degrade performance.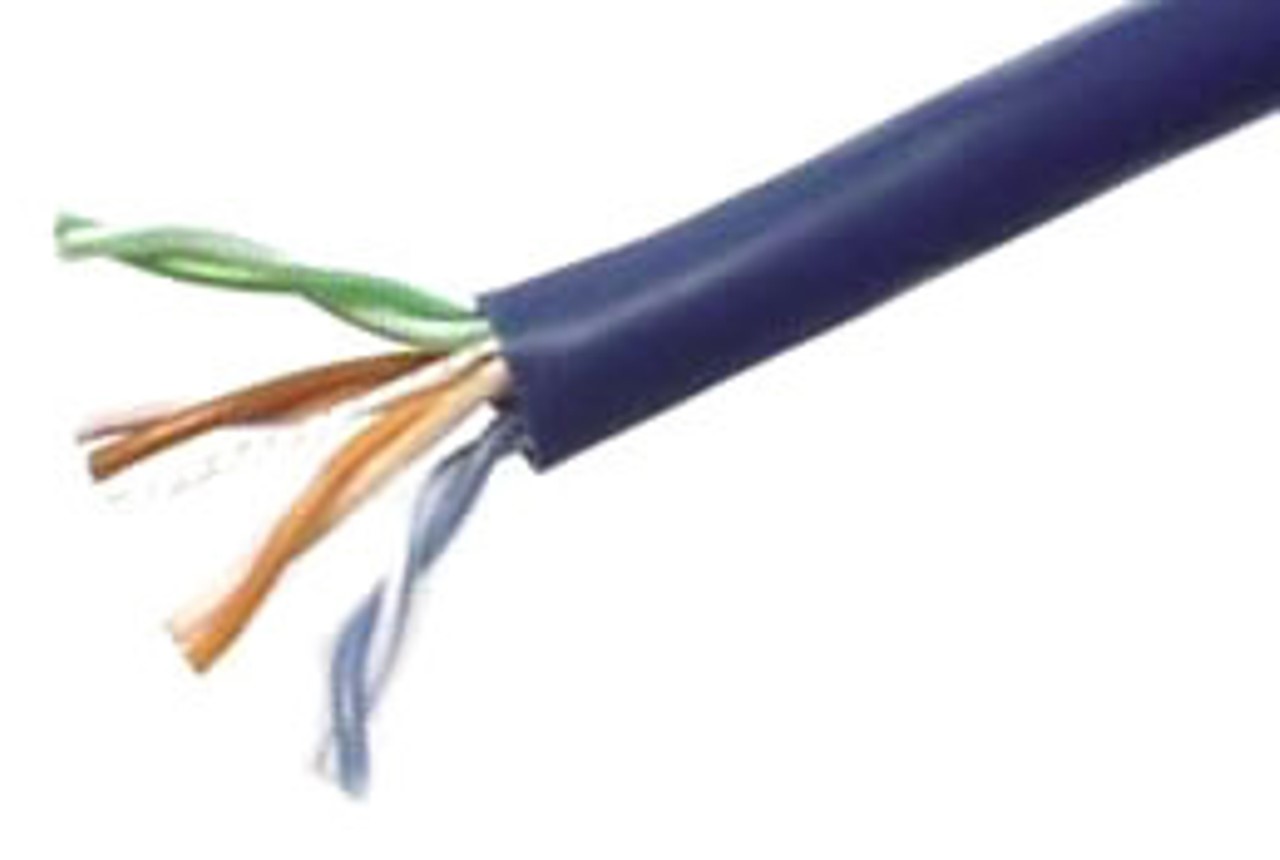 FTP Cables
The "F" in FTP cables refers to foil shielding, a thin layer of lightweight aluminum-based material that offers 100% coverage. This type of shielded cable is technically F/UTP, indicating a foil shield surrounding all four pairs with no shield on the individual pairs. These cables feature a drain wire for terminating the shield to ground. FTP cables are the most common type of shielded cabling deployed in North America.
FTP cables perform well in higher-frequency applications such as 10 Gb/s. With 100% coverage, FTP cables also stand up well to high-frequency noise caused by medical equipment such as imaging systems, ventilators, and defibrillators. High-frequency noise can also come from lighting, wireless transmission, TV and radio receivers, and industrial components such as transformers and controllers. As such, FTP cables are ideal for light industrial and healthcare environments. They are also often used in mission-critical and life-safety applications where performance degradation caused by noise is not an option.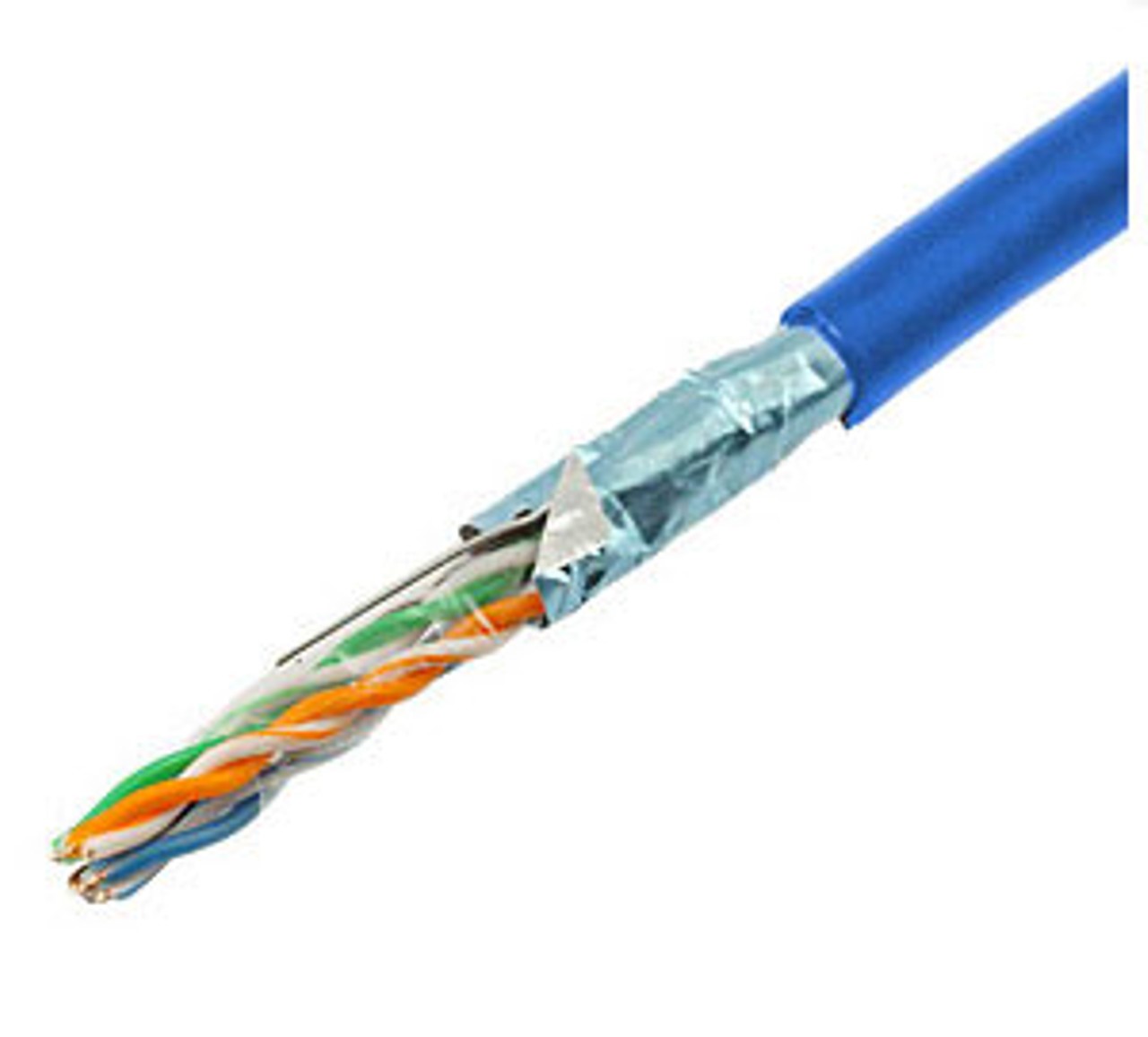 STP Cables
The "S" is STP cables refers to screen shielding, a braided lattice of small tin or copper strands. They are technically designated as S/UTP, meaning they have a screen shield surrounding all four pairs and no shield on individual pairs. Note that STP is often incorrectly used to designate ANY shielded cable, so always checking the shield type is essential.
The construction of a screen shield gives these cables better mechanical strength, but because it is a lattice of strands, it does not provide 100% coverage. STP cables perform best in lower-frequency applications, such as in speeds up to 1000 Mb/s. They are not a popular shielded cable type, but do offer protection from low-frequency noise in environments requiring strong, flexible cables. Low-frequency noise sources include electrical circuits, household appliances, power plants, induction heaters, welding machines, railway/subway systems, and some medical applications.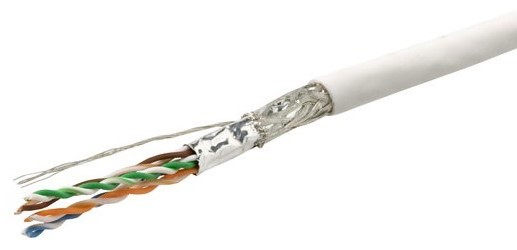 S/FTP Cables
S/FTP cables feature an overall braided screen around all four pairs, each surrounded by a foil shield. With both the overall and individual pair shielding, S/FTP cables are considered fully shielded and offer maximum protection from both low- and high-frequency noise. The foil around each pair also protects against crosstalk between pairs in the same cable.
The construction of S/FTP cables makes them more expensive and time-consuming to terminate due to the amount of metal to remove. S/FTP cables are primarily deployed in harsher industrial environments. It is also the type of construction used in Category 7, Category 7A, and Category 8 cables that operate at very high frequencies of 600, 1000, and 2000 MHz to support faster transmission speeds. Category 7/7A cables support 10 Gb/s and are deployed primarily in Europe and audio-visual and specialty applications. Category 8 cables can support speeds up to 40 Gb/s and are limited to shorter 30-meter links in data center switch-to-server connections. However, Category 8 is rarely deployed for this application as most data centers today use more cost-effective and higher-speed fiber optic cabling or short-length direct attach cable assemblies.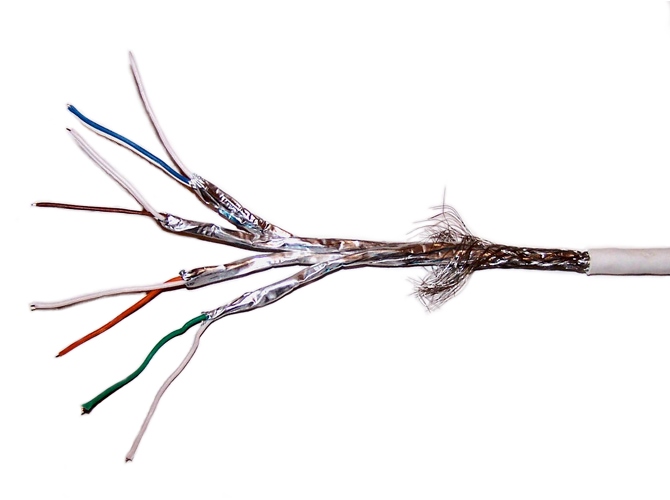 Choosing the Right Type of Cable
The table below summarizes the difference between UTP, FTP, STP, and S/FTP twisted-pair cables to help you choose the right type for your application.
| Common Name | Standards Name | Overall Shield | Pair Shield | Applications | Considerations |
| --- | --- | --- | --- | --- | --- |
| UTP | U/UTP | None | None | Commercial LANs and Data Centers | Least expensive and easiest to terminate |
| FTP | F/UTP | Foil | None | Healthcare, industrial, PoE, and high-temperature applications. | Excellent heat dissipation and protection against high-frequency noise |
| STP | S/UTP | Screen | None | Industrial and transportation | Protection against low-frequency noise |
| S/FTP | S/FTP | Screen | Foil | Industrial and specialty applications and high-speed data center links. | Maximum protection against high and low-frequency noise and crosstalk. Most expensive and difficult to terminate |
Ensuring the right cable type for your deployment environment, application, and EMI/RFI interference level is essential. The good news is that Cables Plus USA offers a one-stop shop for unshielded and shielded twisted-pair cables to suit your needs. If you're unsure what type of cable you need, our experts are always here to help you choose the best option. Contact us, and we will be happy to assist you!