CP685AVRLCD | Intelligent LCD UPS Series
Protect SOHO networks, desktop computers, workstations, and peripherals
Product Overview
---
A compact UPS with line-interactive topology, the CyberPower Intelligent LCD CP685AVRLCD provides battery backup (using simulated sine wave output) and surge protection for desktop computers, workstations, networking devices, and home entertainment systems. The CP685AVRLCD uses Automatic Voltage Regulation (AVR) to correct minor power fluctuations without switching to battery power, which extends battery life. AVR is essential in areas where power fluctuations occur frequently. Features include a multifunction LCD panel to provide visibility into power conditions and UPS vitals. The CP685AVRLCD comes with a three-year warranty (including coverage of batteries) and a $125,000 Connected Equipment Guarantee.
Battery Backup
Supplies power long enough for equipment to properly shut down when utility power fails. Helps prevent loss of data and minimizes the component stress caused by a hard shutdown.
Surge Protection
Diverts excess voltage away from sensitive electronic equipment during an AC power surge or power spike to prevent damage.
Line Interactive Topology
Exists when a line interactive UPS has an autotransformer that regulates low voltages (e.g., brownouts) and over voltages (e.g., spikes) without having to switch to battery.
Automatic Voltage Regulation (AVR)
Provides clean, consistent AC power by automatically regulating low voltages and over voltages, within defined tolerances, when incoming utility power has minor fluctuations.
Simulated Sine Wave Output
Uses pulse wave modulation to generate a stepped, approximated sine wave to supply cost-effective battery backup power for equipment that does not require sine wave output.
GreenPower UPS™ Bypass Design
Is a patented design that allows utility power to bypass the UPS transformer, when AC power is stable, which reduces energy consumption, noise, and heat buildup.
Multifunction LCD Panel
Displays immediate, detailed information on the UPS battery and power conditions, alerting users to potential problems before they can affect critical equipment and cause downtime.
Ultra Quiet Design
Minimizes noise during operation for a quieter work environment.
PowerPanel® Personal Software
Provides a user-friendly dashboard interface for controlling and monitoring the UPS. Free software download available here.
ENERGY STAR
This model is an ENERGY STAR® certified Uninterruptible Power Supply (UPS) system. ENERGY STAR is the trusted, government-backed symbol for energy-efficient products and practices that help save money and protect the environment.
Three-Year Warranty
CyberPower will repair or replace a defective UPS system (including batteries) within three years of the purchase date. See warranty for details.
Connected Equipment Guarantee
CyberPower will repair or replace properly connected equipment if it is damaged by a power surge.
What's In The Box
UPS System, User's Manual, USB A+B Type Cable.
---
WARNING:
This product can expose you to chemicals including Styrene, which are known to the State of California to cause cancer, and Bisphenol A (BPA), which are known to the State of California to cause birth defects or other reproductive harm.
General
UPS Topology
Line Interactive
ENERGY STAR® Qualified
Yes
Energy Saving
GreenPower UPS™ Bypass
Input
Frequency Range
57 – 63 Hz
Plug Type
NEMA 5-15P
Plug Style
Right Angle, 45° Offset Right
Cord Length
6 ft
Output
VA
685 VA
Watts
390 W
Automatic Voltage Regulation
Yes
On Battery Voltage
120 VAC ± 5%
On Battery Frequency
60 Hz ± 1%
On Battery Waveform
Simulated Sine Wave
Outlet Type
NEMA 5-15R
Outlets – Total
8
Outlets – Battery & Surge Protected
4
Outlets – Surge-Only Protected
4
Outlets – Widely Spaced
4
Overload Protection
Internal Circuitry Limiting

Circuit Breaker

Transfer Time
4 ms
Battery
Runtime at Half Load (min)
11
Runtime at Full Load (min)
2
Battery Type
Sealed Lead-Acid
Battery Size
12V/7Ah
Battery Quantity
1
Hot-Swappable
Yes
User Replaceable
Yes
Replacement Battery Cartridge
RB1270B
Replacement Battery Cartridge Quantity
1
Typical Recharge Time
8 hours
Surge Protection & Filtering
Surge Suppression
1,030 J
EMI/RFI Filtration
Yes
Management & Communications
Multifunction LCD Panel
Displays: Current/Load Level, Runtime, Battery Level, Input Voltage, Output Voltage, Battery In Use, Overload, Silent Mode, Normal Mode
HID Compliant USB Port
Yes
LED Indicators
Power On, Wiring Fault
Audible Alarms
On Battery, Low Battery, Overload, Fault
Software
PowerPanel® Personal
Physical
Form Factor
Compact
Color
Black
Keyhole Mounting Slots
Yes
Material of Construction
Plastic
Dimensions – WxHxD (in)
11 x 6.8 x 3.5
Weight (lbs)
11.62
Environmental
Operating Temperature
32 °F to 95 °F / 0 °C to 35 °C
Operating Relative Humidity
0 – 90% (non-condensing)
Storage Temperature
5 °F to 113 °F / -15 °C to 45 °C
Maximum Operating Elevation
10,000 ft (3,000 m)
Maximum Storage Elevation
50,000 ft (15,000 m)
Certifications
Safety
UL1778, cUL 107.3, FCC DOC Class B
Environmental
RoHS Compliant
Warranty
Product Warranty
3 Years Limited
Connected Equipment Guarantee
Lifetime
CEG Amount
$125,000
GreenPower UPS Technology: Bypass Design
GreenPower UPS™ Technology from CyberPower improves operating efficiency, reduce heat generation, and consume less power than conventional UPS models.
Our patented Bypass Design allows current to bypass the transformer and automatic voltage regulation (AVR) when utility power is normal, thus reducing energy consumption and associated costs. Because utility power functions normally most of the time, the bypass design allows for substantial energy savings. This technology also reduces heat generation, an important factor in decreasing operating costs.
---
Automatic Voltage Regulation
Automatic Voltage Regulation (AVR) in line interactive UPS systems stabilizes the incoming AC signal to maintain output power at a nominal 120 volts by controlling high and low voltages without resorting to battery power. This significantly increases battery life and lessens the likelihood of data loss, memory freezes, and system crashes.
How AVR Works in a Line Interactive UPS
A line interactive UPS includes an AVR autotransformer a special type of transformer designed to switch between powered coils of wire in response to variances in utility power input, thereby increasing or decreasing the magnetic field and the resulting output voltage to connected equipment.
This type of UPS tolerates undervoltage brownouts and overvoltage surges without consuming backup battery power by automatically selecting different power taps on the AVR autotransformer. During normal operation, incoming AC power bypasses the autotransformer (where voltage highs and lows are controlled) while also charging the battery. When the incoming voltage falls below the AVR range, the UPS switches to battery backup, and the DC-AC inverter circuitry is engaged. Power will continue to be supplied by the battery-inverter circuit until incoming voltage returns to the range manageable by the AVR.
---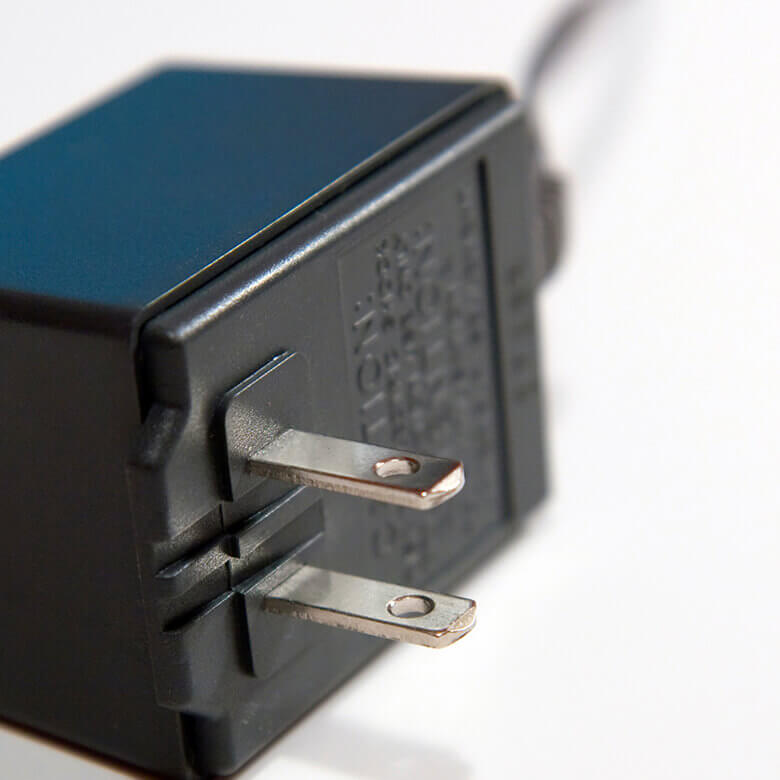 Transformers and Transformer Outlets
A transformer converts alternating current line voltage to a higher value or a lower value. Transformers rely upon electromagnetic induction, the process which occurs when the alternating current within a circuit generates current in a nearby circuit.
Transformers vary in design and size, as well as using different amounts of current. Small transformers plug into a wall outlet and create low direct current voltages which are used by common electronic devices. Transformer outlets are more widely spaced than other outlets to accommodate transformer block adapters or other adapters that are large in size. Transformer outlets can be used to connect any appropriate device to a surge protector.