Every data center project is different, and business needs are fluid and ever-changing. Sometimes an upgrade or expansion is planned well in advance, giving you ample time to effectively determine your equipment, space, power, and connectivity. Other times you may be faced with an urgent project and faster-than-average timing that leaves you scrambling and needing quick, simple solutions that let you get the job done faster.
Sometimes Faster and Simpler is Better
Fiber patch panels accommodate structured cabling cross-connects to distribute fiber from spine to leaf switches or from leaf switches to servers. This process typically involves determining the number and type of connections based on the design and then ordering the proper size enclosure, cassettes, and pre-terminated trunks that are carefully planned out to ensure the correct lengths. Each cassette must then be installed into the enclosure and the trunks must be carefully organized and deployed.
This process ensures a well-thought-out structured cabling system with the flexibility to connect any port to any other port via fiber jumpers at the cross-connect. It also allows individual cassettes to be swapped out if connectivity needs change. But sometimes you just don't have the time and need a faster, simpler solution. When need to quickly connect a top-of-rack (ToR) switch to servers or storage devices or deploy cabinet-to-cabinet connections, rack-mount integrated fiber panel cassettes are an ideal solution.
Sometimes Faster and Simpler is Better
But sometimes you just don't have that time, or you need to quickly make in-cabinet connections from a top-of-rack (ToR) switch to servers or storage devices. For these scenarios, rack-mount integrated fiber panel cassettes are an ideal solution.
ToR Switch Application
Rack-mount integrated fiber panel cassettes come preloaded with pre-terminated and pre-tested LC to MTP/MPO connectivity, ready to connect. They are sleek, all-in-one 1U panels with internal fan-outs that save space, eliminating the need to individually order, unpackage, and install multiple cassettes into an enclosure. This simple, hassle-free installation lets you quickly and easily connect to get up and running faster—and with less packaging, they are a more sustainable option with less waste.
1U rack-mounted integrated fiber panel cassettes are available to fit various multimode and singlemode application needs. Breakout versions are ideal for quickly deploying in-cabinet breakout connections from a high-speed QSFP ToR switch with 8-fiber MPO/MTP ports to lower-speed duplex servers or storage devices via fiber patch cables .
For a ToR example, an integrated breakout panel can connect a 16-port 40GBASE-SR ToR switch to 64 10GBASE-SR servers (4X10 Gig) or a 12-port 100GBASE-SR ToR switch to 48 25GBASE-SR servers (4X25 Gig). That allows you to maintain high-speed uplinks from the switch, while saving space and optimizing switch port utilization to reduce cost and power. These panels come with rear MTP ports or front-facing integrated MTP cables to accommodate various vendors' switches. The front-facing cables allow you to connect quickly and easily to the switch, eliminating the need for separate cable assemblies.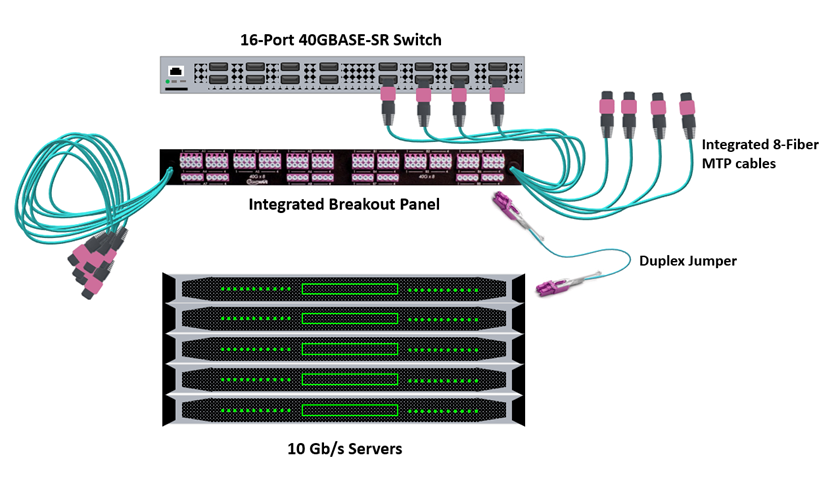 Cabinet-to-Cabinet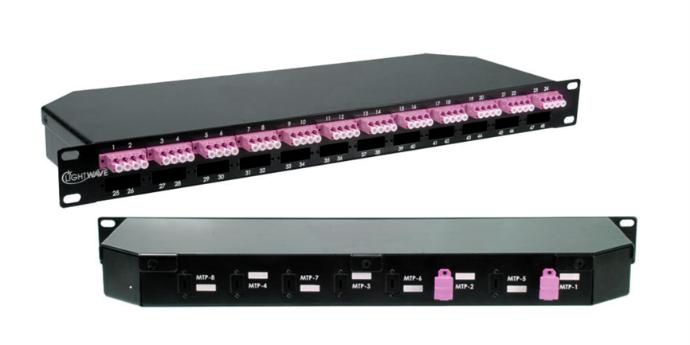 If you're not deploying breakout applications but need a quick and easy solution for cabinet-to-cabinet connections in end-of-row or middle-of-row deployments, integrated fiber panel cassettes also come with MTP connections at the rear and duplex LC connections at the front.
These panels offer easier routing, pathway space savings, and reduced clutter for duplex fiber applications using 12-, 24- , or 48-fiber MTP trunks. For example, integrated panels with 48 duplex LCs at the front and two 48-fiber MTPs at the rear connect with just two cable assemblies.
Built for You with Reliability and Performance
Rack-mount integrated fiber panel cassettes are durable, with no need to worry about loose cassettes shifting or coming disconnected from the panel. That means you get sturdy, reliable connections with a faster, more sustainable deployment with less packaging for a cleaner footprint.
Rack-mount integrated fiber panel cassettes that use superior MTP® connectors also deliver maximum performance—especially for 40 Gig and higher applications with extremely stringent channel loss requirements. Available in standard, Elite®, and Super Elite®, MTP connectors feature more precise geometry, superior alignment, and better insertion loss and reflectance than other MPO connectors. MTP standard connectors offer a typical insertion loss of 0.25 dB for singlemode and 0.20 for multimode. Elite® connectors offer a typical insertion loss of 0.10 dB for both singlemode and multimode, while MTP Super Elite® connectors offer typical insertion loss of just 0.05 dB. Read our blog on MTPs vs. MPOs to learn more about the differences and why it matters.
The good news is that Cables Plus, USA, offers a comprehensive line of 1U rack mount integrated panels in singlemode and multimode for switch-to-server breakouts and cabinet-to-cabinet connections—and we only use top-of-the-line MTP connectivity for maximum performance with the lowest insertion loss available.
And whatever your need, we work with you to package your full solution. We can provide integrated breakout cables in custom lengths and develop custom kits that include patch cords and trunk cables in the same package to help make your installation smooth and easy. Just contact us at sales@cablesplususa.com.