Which Network Transceiver Do I Need?
In networking, transceivers are the critical components that enable data transmission. The name "transceiver" comes from the fact that these components consist of both receiver and transmitter assemblies required for data transmission. While transceivers can be embedded into short-reach direct attach copper and optical cables, they offer significant advantages when packaged into pluggable transceiver modules.
Pluggable transceivers support various network speeds and transmission technologies, they are compatible with a variety of active network equipment, and they offer the benefit of easy plug-and-play deployment and replacement to facilitate upgrades. Pluggable transceivers also feature common copper and fiber connector interfaces to serve as the interface between active equipment and the cabling infrastructure. This supports the use of structured cabling in data center, LAN, and WAN networks that provides a standards-based, organized infrastructure that's cost-effective, easy to manage, and highly scalable.
Transceiver form factors (size and shape) have gotten much smaller over the past two decades to support high-density data center deployments—the smaller the form factor, the more switch ports can fit into a single 1U space. For example, first-generation 1 Gig GBIC (gigabit interface converter) form factor transceivers are rapidly being replaced with SFP (small form factor pluggable) transceivers (also referred to as mini-GBIC transceivers) that are about half the size. Similarly, XENPAK transceivers first introduced for 10 Gig applications in the early 2000's are largely being pushed out of the market by compact SFP+ and XFP transceivers.

XENPAK SFP+ XFP
While density requirements have many now choosing new smaller form factor transceivers, there are some considerations when it comes to selecting the one that's right for your network.
Know Your Application
Transmission speed is the primary spec that determines the transceiver form factor, which is based on the number of lanes (channels) and speed per lane (baud rate) that the transceiver supports. For example, SFP form factors include SFP transceivers with a 1 Gb/s lane rate, SFP+ transceivers with a 10 Gb/s lane rate, SFP28 transceivers with a 25 Gb/s lane rate, and SFP56 transceivers with a 50 Gb/s lane rate.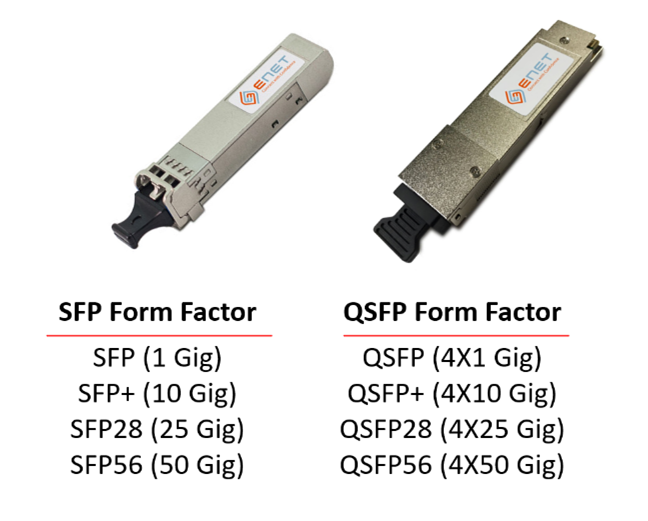 To support higher-speed applications, you need more lanes sending data simultaneously either via parallel optics or wave division multiplexing (WDM) technology—that's where the 4-lane QSFP (quad SFP) form factor comes in. For example, QSFP+ transceivers at a 10 Gb/s lane rate support 40 Gig, QSFP28 transceivers with a 25 Gb/s lane rate support up to 100 Gig, and QSFP56 transceivers at 50 Gb/s lane support 200 Gig. The latest transceiver form factor on the market for supporting 400 Gig is the 8-lane QSFP-DD at 50 Gb/s lane. As encoding schemes advance to support a 100 Gb/s lane rate, a 4-lane QSFP form factor will support 400 Gig and an 8-lane QSFP-DD form factor will support 800 Gig.
When it comes to choosing a transceiver, you need to know what application you are supporting. Transceivers can support copper twisted-pair applications up to 10 Gig (i.e., 10/100/1000BASE-T or 10GBASE-T), or they can support multimode and singlemode fiber applications up to 400 Gig, including duplex, WDM and bi-directional, and parallel optic applications. The internal circuitry of the transceiver will vary based on the application. In other words, a 4-lane QSFP+ transceiver that supports a parallel optic multimode application like 40GBASE-SR4 with 4 fibers transmitting and 4 receiving at 10 Gb/s will have vastly different internal functionality compared to one that supports a 4-lane WDM singlemode application like 40GBASE-LR4 where signals are multiplexed/demultiplexed for sending and receiving over four different wavelengths.
Interface and Equipment Compatibility
Of course, once you know your application, you also need to consider the connector interface of your cabling infrastructure. Transceivers that support twisted-pair copper applications like 1000BASE-T and 10GBASE-T will all use the common RJ-45 interface. Parallel optics applications that transmit and receive over multiple fibers use multi-fiber push-on (MPO) connectors, while duplex, bi-directional, and WDM applications that require just one or two fibers need simplex or duplex connectors, such as LC or SC connectors. There are also transceivers becoming available that support newer very small form factor connectors like Senko's SN and US Conec's MDC duplex connectors and development is underway to develop transceivers that support Senko's new SN-MT mini MPO connectors.
Another consideration is equipment. You want to make sure your transceivers are compatible with whichever vendor's switches you're planning to deploy—whether that's Cisco, Cisco Meraki, Dell, Extreme, HP, Juniper, or Ruckus/Brocade. While the transceiver doesn't need to come from the original equipment manufacturer (OEM), you want to choose transceivers that are guaranteed compatible with identical functionality to OEM products.
The good news is that Cables Plus offer a wide range of LightWave transceivers—including GBIC, XFP, SFP and QSFP form factors—for today's most popular twisted-pair copper and optical fiber applications, connector interfaces, and switch vendors. And our LightWave-branded transceivers guarantee compatibility and reliability with industry-leading lifetime replacement warranty and technical support. Still unsure about which transceiver you need? Just contact us at sales@cablesplususa.com or 866-678-5852 for guidance.