Soft-Strip® stripping tools from Micro Electronics strip buffered fiber up to 900µm quickly and easily. Try the convenient Fiber Stripping Kits containing standard handles with interchangeable cutter blade sets and fiber guides to strip most fiber sizes. Or if you prefer, purchase Soft-Strip® tools individually fitted for the fiber or jacket diameter you specify with cutter blade set and fiber guide already installed.
Thermal Tool Breakdown
A. Handle Assembly
Battery or AC adapter operated, 4 ft. wire leads are connected to either a 6-V battery or AC adapter.
B. Cutter Blade Set
Selected for each ribbon or fiber size. Opposing blades self align around fiber guide to assure concentric scoring scoring and precision-stripped , nick free fiber. Blades travel in a straight line to assure proper allignment. Color coded to match fiber guide lock.
C. Fiber Guide Lock
Holds fiber guide securely in position. Color-coded to match blade sets.
D. Stripping Force
This is applied longitudinally with the fiber. The chance of harmful drag of fiber against to blade is eliminated, even with operator inattention of fatigue.
E. Fiber Guide
Selected for each nominal diameter of unstripped fiber, wire, or ribbon. Wrong size will not fit, assuring that the fiber is properly stripped, and not nicked or damaged.
F. Strip Guide Length
Calibrated in 1/16″ for strip lengths to 3″ (1″ or 2″ is standard).
G. Heater Oven
Heats and softens material to be stripped. Activated when hands are closed. Accommodates 1″, 2″ or 3″ maximum strip length.
H. Spring Assembly
Keep handles apart. In later models, also ejects scrap from heater oven.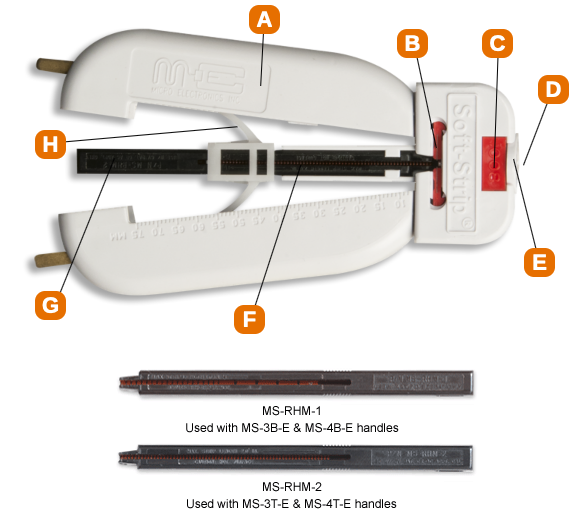 Product Selection Guide:
Fiber Cladding Diameter to Expose


Fiber Diameter Guide

Max Insulation Dia / Micron Range


Complete Stripper Kit
Replacement Guide
Replacement Blade
Color
0 - 80um

.007 Dia / (0 - 180um)

MS-4B-04S-07

MS1-RT-07

MS1-RB-04S

CLEAR

Blade Dia. .0045

.010 Dia / (180 - 250um)
MS-4B-04S-10
MS1-RT-10
.014 Dia / (250 - 343um)
MS-4B-04S-13
MS1-RT-13
.016 Dia / (343 - 407um)
MS-4B-04S-16
MS1-RT-16
.018 Dia / (407 - 457um)
MS-4B-04S-18
MS1-RT-18
.021 Dia / (457 - 533um)
MS-4B-04S-21
MS1-RT-21
.025 Dia / (533 - 635um)
MS-4B-04S-25
MS1-RT-25
.031 Dia / (635 - 787um)
MS-4B-04S-31
MS1-RT-31
.035 Dia / (787 - 889um)
MS-4B-04S-35
MS1-RT-35
.040 Dia / (889 - 1016um)
MS-4B-04S-40
MS1-RT-40
85 - 120um
.010 Dia / (180 - 250um)
MS-4B-05S-10
MS1-RT-10
MS1-RB-05S

LAVENDER

Blade Dia. .0055

.014 Dia / (250 - 343um)
MS-4B-05S-13
MS1-RT-13
.016 Dia / (343 - 407um)
MS-4B-05S-16
MS1-RT-16
.018 Dia / (407 - 457um)
MS-4B-05S-18
MS1-RT-18
.021 Dia / (457 - 533um)
MS-4B-05S-21
MS1-RT-21
.025 Dia / (533 - 635um)
MS-4B-05S-25
MS1-RT-25
.031 Dia / (635 - 787um)
MS-4B-05S-31
MS1-RT-31
.035 Dia / (787 - 889um)
MS-4B-05S-35
MS1-RT-35
.040 Dia / (889 - 1016um)
MS-4B-05S-40
MS1-RT-40
125 - 135um
.010 Dia / (180 - 250um)
MS-4B-06S-10
MS1-RT-10
MS1-RB-06S

PURPLE

Blade Dia. .0063

.014 Dia / (250 - 343um)

MS-4B-06S-13

MS1-RT-13

.016 Dia / (343 - 407um)
MS-4B-06S-16
MS1-RT-16
.018 Dia / (407 - 457um)
MS-4B-06S-18
MS1-RT-18
.021 Dia / (457 - 533um)
MS-4B-06S-21
MS1-RT-21
.025 Dia / (533 - 635um)
MS-4B-06S-25
MS1-RT-25
.031 Dia / (635 - 787um)
MS-4B-06S-31
MS1-RT-31
.035 Dia / (787 - 889um)
MS-4B-06S-35
MS1-RT-35
.040 Dia / (889 - 1016um)
MS-4B-06S-40
MS1-RT-40
125 - 175um
.010 Dia / (180 - 250um)
MS-4B-08S-10
MS1-RT-10
MS1-RB-08S

RED

Blade Dia. .008

.014 Dia / (250 - 343um)

MS-4B-08S-13

MS1-RT-13

.016 Dia / (343 - 407um)
MS-4B-08S-16
MS1-RT-16
.018 Dia / (407 - 457um)
MS-4B-08S-18
MS1-RT-18

.021 Dia / (457 - 533um)

MS-4B-08S-21

MS1-RT-21

.025 Dia / (533 - 635um)
MS-4B-08S-25
MS1-RT-25
.031 Dia / (635 - 787um)
MS-4B-08S-31
MS1-RT-31
.035 Dia / (787 - 889um)
MS-4B-08S-35
MS1-RT-35

.040 Dia / (889 - 1016um)

MS-4B-08S-40

MS1-RT-40

180 - 230um
.014 Dia / (250 - 343um)
MS-4B-10S-13
MS1-RT-13
MS1-RB-10S

LIGHT BLUE

Blade Dia. .010

.016 Dia / (343 - 407um)
MS-4B-10S-16
MS1-RT-16
.018 Dia / (407 - 457um)
MS-4B-10S-18
MS1-RT-18
.021 Dia / (457 - 533um)
MS-4B-10S-21
MS1-RT-21
.025 Dia / (533 - 635um)
MS-4B-10S-25
MS1-RT-25
.031 Dia / (635 - 787um)
MS-4B-10S-31
MS1-RT-31
.035 Dia / (787 - 889um)
MS-4B-10S-35
MS1-RT-35
.040 Dia / (889 - 1016um)
MS-4B-10S-40
MS1-RT-40
235 - 280um
.014 Dia / (250 - 343um)
MS-4B-12S-13
MS1-RT-13
MS1-RB-12S

WHITE

Blade Dia. .012

.016 Dia / (343 - 407um)
MS-4B-12S-16
MS1-RT-16
.018 Dia / (407 - 457um)
MS-4B-12S-18
MS1-RT-18
.021 Dia / (457 - 533um)
MS-4B-12S-21
MS1-RT-21
.025 Dia / (533 - 635um)
MS-4B-12S-25
MS1-RT-25
.031 Dia / (635 - 787um)
MS-4B-12S-31
MS1-RT-31
.035 Dia / (787 - 889um)
MS-4B-12S-35
MS1-RT-35
.040 Dia / (889 - 1016um)
MS-4B-12S-40
MS1-RT-40
285 - 330um
.016 Dia / (343 - 407um)
MS-4B-14S-16
MS1-RT-16
MS1-RB-14S

DARK GREEN

Blade Dia. .014

.018 Dia / (407 - 457um)
MS-4B-14S-18
MS1-RT-18
.021 Dia / (457 - 533um)
MS-4B-14S-21
MS1-RT-21
.025 Dia / (533 - 635um)
MS-4B-14S-25
MS1-RT-25
.031 Dia / (635 - 787um)
MS-4B-14S-31
MS1-RT-31
.035 Dia / (787 - 889um)
MS-4B-14S-35
MS1-RT-35
.040 Dia / (889 - 1016um)
MS-4B-14S-40
MS1-RT-40
335 - 380um
.018 Dia / (407 - 457um)
MS-4B-16S-18
MS1-RT-18
MS1-RB-16S

ORANGE

Blade Dia. .016

.021 Dia / (457 - 533um)
MS-4B-16S-21
MS1-RT-21
.025 Dia / (533 - 635um)
MS-4B-16S-25
MS1-RT-25
.031 Dia / (635 - 787um)
MS-4B-16S-31
MS1-RT-31
.035 Dia / (787 - 889um)
MS-4B-16S-35
MS1-RT-35
.040 Dia / (889 - 1016um)
MS-4B-16S-40
MS1-RT-40
385 - 430um
.021 Dia / (457 - 533um)
MS-4B-18S-21
MS1-RT-21
MS1-RB-18S

YELLOW

Blade Dia. .018

.025 Dia / (533 - 635um)
MS-4B-18S-25
MS1-RT-25
.031 Dia / (635 - 787um)
MS-4B-18S-31
MS1-RT-31
.035 Dia / (787 - 889um)
MS-4B-18S-35
MS1-RT-35
.040 Dia / (889 - 1016um)
MS-4B-18S-40
MS1-RT-40
435 - 500um
.025 Dia / (533 - 635um)
MS-4B-21S-25
MS1-RT-25
MS1-RB-21S

ROYAL BLUE

Blade Dia. .021

.031 Dia / (635 - 787um)
MS-4B-21S-31
MS1-RT-31
.035 Dia / (787 - 889um)
MS-4B-21S-35
MS1-RT-35

.040 Dia / (889 - 1016um)

MS-4B-21S-40

MS1-RT-40

505 - 550um
.025 Dia / (533 - 635um)
MS-4B-23S-25
MS1-RT-25
MS1-RB-23S

MAROON

Blade Dia. .023

.031 Dia / (635 - 787um)
MS-4B-23S-31
MS1-RT-31
.035 Dia / (787 - 889um)
MS-4B-23S-35
MS1-RT-35
.040 Dia / (889 - 1016um)
MS-4B-23S-40
MS1-RT-40
555 - 600um
.031 Dia / (635 - 787um)
MS-4B-25S-31
MS1-RT-31
MS1-RB-25S

LIGHT GREEN

Blade Dia. .025

.035 Dia / (787 - 889um)
MS-4B-25S-35
MS1-RT-35
.040 Dia / (889 - 1016um)
MS-4B-25S-40
MS1-RT-40
605 - 680um
.031 Dia / (635 - 787um)
MS-4B-28S-31
MS1-RT-31
MS1-RB-28S

BLACK

Blade Dia. .028

.035 Dia / (787 - 889um)
MS-4B-28S-35
MS1-RT-35
.040 Dia / (889 - 1016um)
MS-4B-28S-40
MS1-RT-40